Created: 29 May 2002
I have just completed some updates to Magic's galley/interior over the winter and thought I would pass a few of the pictures along.
When I bought the boat from Jim Conlin a few years ago, I liked many of the interior modifications that he had completed (see Magic Tour), but it was beginning to look a bit tired and dated (see below). Additionally, after completing my first full season cruising aboard, I decided that I wanted to add and rework a few of the existing galley storage solutions.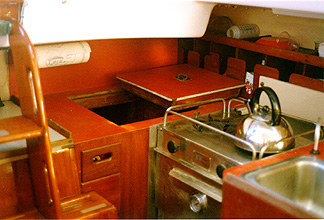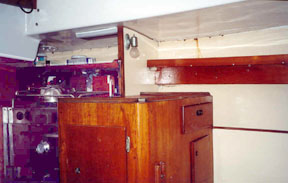 I gutted the galley by ripping off all the old orange laminate, removing the old sink, and pulling out the old storage cabinet above the icebox (below). I also removed the shelf that runs from the galley to the forward bulkhead.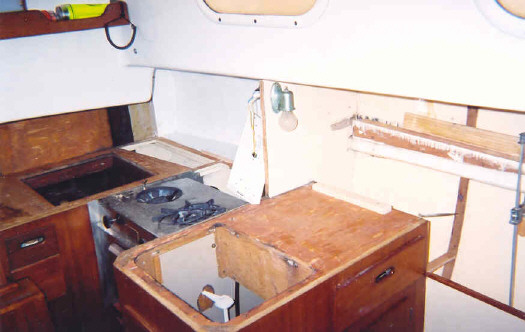 Fortunately, A friend of mine had recently restored a 1936 New York 32 and had replanked the entire hull with 5/4 thickness Honduras mahogany planking. Whenever I could lend a hand, I would drive up to Maine to help gut, sand, and help with whatever and would be paid in mahogany "scrap wood". This supplied my entire galley rebuild project (and another project on a Pearson Ariel).
Mahogany is by far my favorite wood to work with. It has good durability in corrosive and heavy use environments, It planes and saws very well (does not dull blades like teak), and has an incredibly rich, warm tone when varnished.
Once the galley was stripped of the old Formica and shelving, I first built 2 new cabinet fronts using 1/2" mahogany plywood. I added sliding tracks, solid mahogany trim and ordered 2- 12"x21" x 1/4" smoked lexan pieces for the sliding doors. I anchored this cabinet behind the stove and icebox with 1" oak cleats (See photo, below).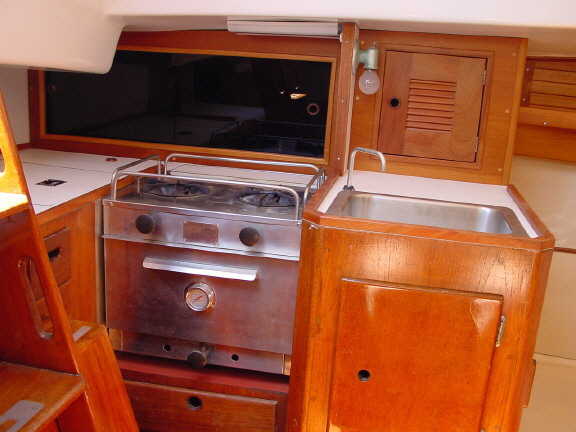 The second cabinet was also built of 1/2" mahogany plywood and solid mahogany trim, but I built a louvered door for this one (see below). The door itself was easy enough, 2 stiles, 2 rails (both solid 3/4" mahogany) joined with oak dowels, but the louvered centerpiece took quite a bit of time. I built several mockups with pine so I could get the louver angles correct on the tablesaw. Once complete, I epoxied everything up and clamped overnight. If I had to do it again, I would seriously consider buying one of those louvered door kits (available through West Marine and others). They are not cheap, but the time it took for me to build the door from raw lumber more than made up for the price. I think that if I were able to find the kit in mahogany, I would have gone that route.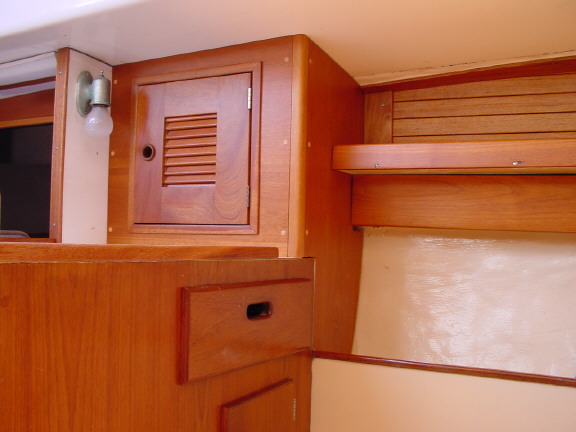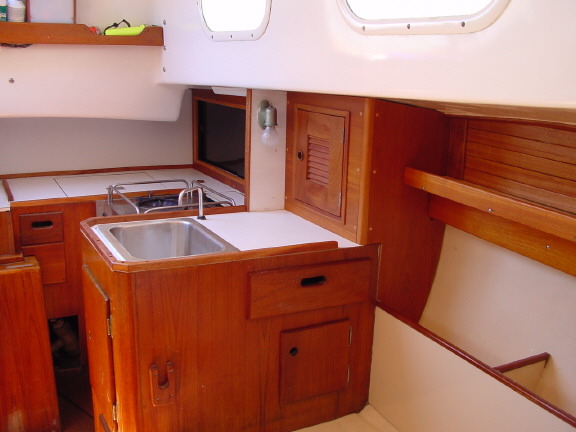 When I started the project, I had intended to build 2 more cabinets behind the port settee forward of the sink, but by the time I had finished the first louvered door cabinet, time was running short and decided instead to install a stripped mahogany ceiling above the shelf that I had removed. This was a quick project that consisted of epoxying 4 kerfed 1" wide x 1/2" deep plywood cleats vertically to the hull (you can see one of them along the hull behind the sink in the first photo in this article). The one pictured also served as an anchor point for one of the cabinet sides. Ones these had cured, I simply ripped 1-1/4" mahogany strips with the table saw and screwed them to the cleats (using the shelf as a horizontal reference point). The top two strips had to be planed to accommodate the curve of the deck. Finally, I added 2 end plates on the forward and aft ends of the strips to cover most measurement sins and reinstalled the shelf (below).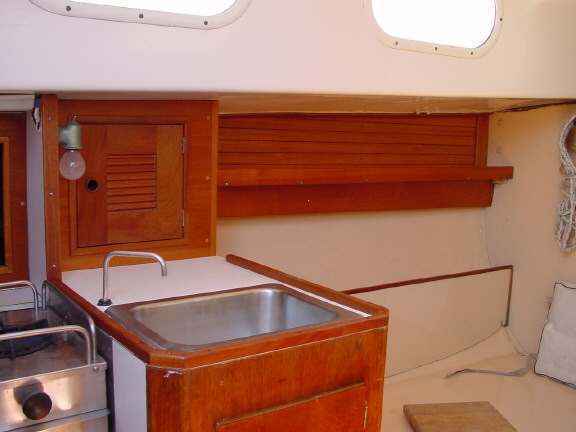 I used white Formica to cover the countertops and made new fiddle rails to cover the edges. I cut cherry bungs to plug the countersunk screw holes in the cabinets and fiddle rails, glued those in place and then put 3 coats of satin varnish on all the new wood.
All and all, I think things came out pretty well, though there are several mistakes that will always bug me, but others may not notice. This is my third boat project (Endeavour 33 and Pearson Ariel were the other 2) and I still haven't gotten any better at estimating project time. It ALWAYS takes twice as long as I think it will. I have learned that I just don't have the time to do more than one major project per year, or some of the required maintenance items will slip.
Next years' project will either be propane stove and tank storage or reconfigure electrical system with new wiring/panel etc... stay tuned ..
Matt Bowser,
Magic, 1962 Hull #16