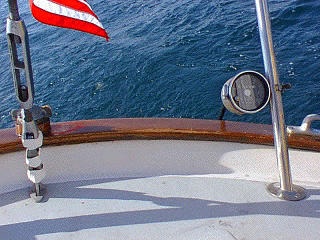 Since the knotmeter on my Alberg was not working properly and my sailing budget was pretty well wiped out by other projects, I decided to try "recycling" an old Sumlog knotmeter/log from my former boat.
The Sumlog is a mechanical unit that relies on a propeller that is usually fixed to the underside of the hull. This propeller turns a flexible cable much like those found in an automotive speedometer. The cable then leads up to the control head which displays speed and miles sailed.
A brass plumbing fitting was inserted into the Sumlog propeller in order to provide some ballast and keep the thing submerged at higher speeds. The end of the drive cable is square and fits into an square hole in the propeller. The prop was placed on the cable and then a wire splice was crimped onto the end to keep the prop from sliding back off. The cable is then draped off the transom of the boat and the display head is held in place by a pair of hose clamps. The clamps are interlocked and form a solid mounting point. So far, the 10 foot length has not caused a problem by getting sucked into the prop when backing down the boat. (I don't think it reaches that far.)
Total cost: $0.20 for the crimp connector. All other parts were on hand and gathering dust in my "spare parts" bin. The only annoyance is the continual helpfulness of other sailors telling me that I am dragging a line behind the boat.