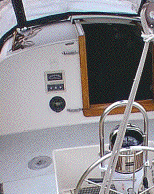 The old instrument panel located on the cabin bulkhead of the cockpit.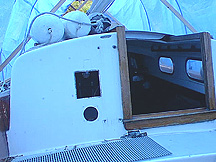 With the instruments removed, there are some pretty large holes to fill...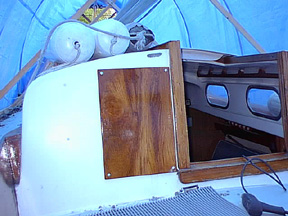 On classic boats such as the Alberg 35, a little teak is always appropriate! The panel is made up of 1/2-inch thick teak boards epoxied together with a couple of small bisquits to help with alignment. The panel is attached using six 1/4-inch stainless carriage bolts.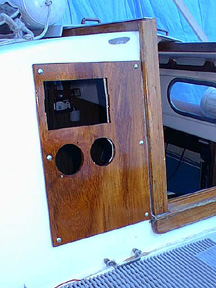 Here the teak panel has been "trimmed" to hold the instrumentation in the desired locations. The cabin bulkhead has been similarly trimmed.
The cabin bulkhead, for those of you contemplating similar projects, is composed of two layers. The outer layer is solid glass, approximatley 1/4-inch thick. The inner layer is a cabin liner, also make of fiberglass, and is approximately 3/16-inch thick. On my boat, some pieces of wood had been wedged in between the two layers to provide something into which to thread the screws used to mount the old instruments. These blocks were removed so as to make the interior layer of fiberglass as flat as possible. This should make it a bit simpler to build a cover to hide the back sides of the instruments.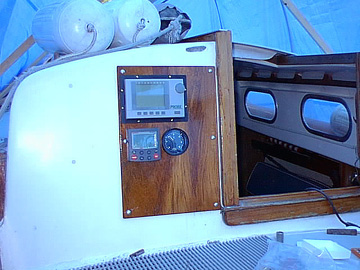 The finished product - exterior view. Shown mounted are (top to bottom, left to right) an Interphase Probe forward-looking depth sounder with speed, log and temperature sensors, an Autohelm 4000 autopilot control head (also serves as a digital compass when not steering the boat), and an engine tachometer from Marine Products.
In the works is a cover to help protect the new depth sounder from sunlight and stray birds. Also coming is a cover for the interior. This cover will be used to (a) hide the wiring, and (b) support various switches for power and lighting used in the various display heads.
Stay tuned for these improvements!