My sincere thanks to Barb von Schilcher, the niece of the former owner of Tomfoolery (then known as Kindo), for sharing the following "Alberg Yarn" with us. The date is July 13, 1968 - Barb's wedding day. I think you'll enjoy her story.
---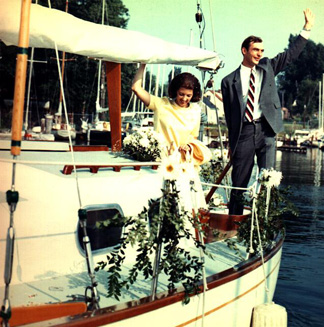 This photo was taken as we pulled out of the slip at the Rochester Yacht Club aboard Kindo, on July 13, 1968. My husband and I were joined by two other crew members, both of whom had been former beaus of mine. The comment made at that point was, "Hmm..., not too many gals who go off on their honeymoon with a last minute choice of whom she'll stay with!" The flowers were lashed to each of the stanchions, the forestay (no self-furling jib in those days), the backstay, the main hatch, and the mast.
After we left, my cousin called the Coast Guard and told them that someone had just "stolen" a boat, and asked them to go catch it and return it to the Rochester Yacht Club. [Note: The Coast Guard station is located less than half a mile from the RYC at the mouth of the Genesee River. - T.A.]
One of the fellows aboard Kindo (the Best Man at the wedding) was a lawyer, and when the Coast Guard caught up with us, he argued with them, quoting various passages from the Coast Guard Manual, as to why they couldn't board us. The Coast Guard boat followed Kindo out into Lake Ontario and back up the Genesee River to Shumway Marine, where our car was waiting for us. As we approached the dock at Shumway Marine, we ran aground (They had been dredging the area, but had not completed the job.). At that point, the lawyer gave the 'go-ahead' to the Coast Guard to come along side. We hopped off Kindo onto the Coast Guard boat and then onto the dock to go to our car and off on the honeymoon. (What my cousin had thought would be a monkey-wrench in our departure ended up being the saving grace for our journey from the wedding reception to our honeymoon destination in the Thousand Islands!)
Hope you enjoy the picture and tale that goes with it. :-)
Barb
P.S. We weren't very ship-shape with the fenders still hanging over the port side, but we'd just pulled out of the slip.