by This email address is being protected from spambots. You need JavaScript enabled to view it.
My projects seem to start as dreams. I have a knack for looking at a future project and seeing a sleek hot rod turning heads wherever it goes or a beautiful sailboat cruising down the Bay toward destinations unknown, not a wreck with rats living in it or a clapped out boat with no interior, engine or many of the other things that are essential to making it go. Over the years my dreams have progressed from cars, motorcycles and trucks to sailboats. The older I get the slower my dream gets (but no less exciting). My dreams used to scare my wife and family but now they seem to understand that for me they are a way of life and eventually they seem to come true. We have had a host of sleek hot rods and lately two successful boat projects. The "Molly Brown" qualifies as the largest dream to date, but probably not the last.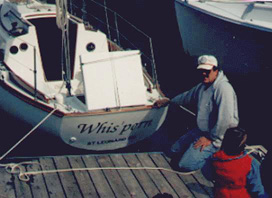 I first laid eyes on the "Molly Brown" in the spring of 1996. I had pulled my last project "Whispern" (a 25 foot Cape Dory - see left) to make some modifications needed after the first season of sailing and "gunk-holing" on the Bay. The resurrection of "Whispern" had taken two years and after a season of sailing I missed having a project in the back yard to devote my planing and hands-on skills to. I also had an urge to sail further and for longer periods of times in a larger boat. "Molly Brown" definitely qualifies as a project. The "Molly Brown" is a 1962 Alberg 35 that has definitely seen better days. What I first saw was her beautiful lines moving swiftly over the water carrying family and friends to fun filled times in exotic locations. In reality what I was looking at was a thirty five foot fiberglass sloop with delaminated decks, no interior, no engine, and some great examples of some very poor workmanship done in an attempt by previous owners at repair and restoration. The owner at the time I came into the picture had not begun to work on her. He owns a marina service and was looking at her as a project and answer to his own sailing dream. Another dream boat with less work needed came along and he lost interest in "Molly Brown". I made an offer in the Fall of '96 and after some time we agreed on a price that my budget could stand and the fun part began.
I was informed that the boat had a "history". She had been cruised and there was a book written about her circumnavigation in the late sixties. I was given a copy of the book "The Log of The Molly Brown", written by the then owner Richard Zantzinger as part of the sale. It made for interesting reading and enforced my belief that the boat should be saved. It also added to the dream of visiting exotic locales. Why not? The boat knows the way.
During my teenage years I was active in a Boy Scout Troop. My first experience with cruising lifestyle had involved a family who's boys were also in the troop. They decided to take some time off and go cruising. They circled the globe as a family and put together a slide show on their experience that they showed at several different gatherings including a dinner held by the troop. When I bought the "Molly Brown" I truthfully had not thought about the Autenreiths in years. I was pleasantly surprised to find that they had been mentioned several times in the book. The author had run into them in several different ports in the far east. My parents, I found out, still attend church with the Autenrieths and have spoken with them about my ambition to bring "Molly Brown" back to full glory. They have promised to review their archives and provide copies of what ever pictures they might have.
The boat had not been documented or registered in six years so I assume that it also had not been in the water in six years. The last owner of record had sold the boat to the then present owner and moved leaving no forwarding address. After several months of working with some very friendly folks at the Maryland State Department of Natural Resources and the United States Coast Guard every one was finally convinced that my wife and I were the rightful owners and issued the pertinent state and federal documents.
The "Whispern" had given me some education in restoring and replacing teak, Epoxy paint application and several other useful skills but it definitely had not prepared me for some of the things that I now face. For the first phase of the project there is only one way to go. Get all the reference materials you can and read until you can read no more. I was and still am in the process of digesting every bit of technical information I can. My career as a Technical Field Representative for an executive jet manufacturer brings me into contact with many talented and knowledgeable people and I travel most of the eastern seaboard in execution of my duties. Using this bank of knowledge and experience, plus a father who owns an extensive wood working shop and a good working knowledge of woodworking, I was able to piece together the "Whispern" project. At this time these people and a lot of folks are taking great interest in the "Molly Brown". Everyone has a tip or an opinion. Everyone has a different approach and another contact. This is the type of social interaction that makes a project like the "Molly Brown" happen.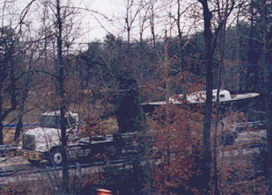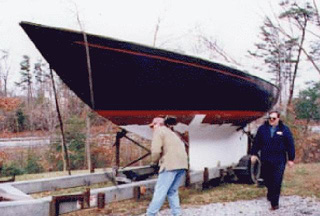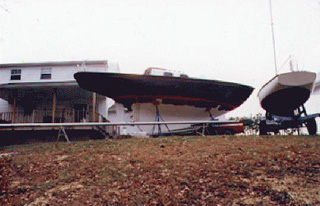 After documentation it was time to get the project to a place where I could spend the maximum amount of my free time on it. This also coincides with where the most tools and support systems for the project are. This unique place just happens to be our back yard. Over the past six years we have lived in a house we built so that we could be close to the water. While being three miles from the marina it is still not close enough to effectively work on a project. Like many other budget cruisers I have to work to support my habit. My job hours are very unpredictable as are my off hours that can be devoted to my dreams. If I wanted to see the project completed before I was too old to enjoy it "Molly Brown" had to come home. While three miles is a short distance over land it is a very long distance for a fourteen thousand pound boat. Fortunately I had resolved this issue with the "Whispern" by finding George Kline with Cove Point Marine. George has told me that the possibilities are endless and one way or another we will figure out how to transport my dreams back and forth. "Molly Brown" was childs play for George and his hydraulic trailer and after a morning of letting the fluid do the work my project was firmly blocked in the yard. George left telling me that he was only a phone call away when we were ready to float her.
This brings us to where the project is today. Being of modest means I must do most of the work myself and come up with innovative ways to finance the purchase of supplies so my family does not go hungry. A good portion of the equipment that came with the boat does not figure into my plans for the finished package. There are some beautiful big Merriman winches that will be perfect for someone else's dream but do not fit mine. We have a large, heavy, running condition Perkins 107 that will be sold to help finance a Yanmar three cylinder or another comparable much smaller diesel. There are about ten different sails that need to be sorted and decisions need to be made as to what we keep. Of the sails we keep some need to be modified and reconditioned. Finding a market for used equipment and also finding places to purchase used and new things that I can use is an ongoing effort.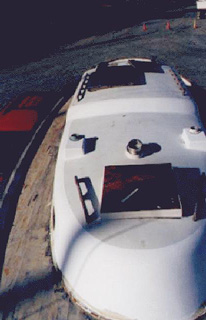 The first major hands on project is the deck. Originally it was a balsa wood sandwich construction. After about 20 years in service it seems it became saturated and delaminated. One of her owners made an attempt at repair. He stripped the top skin and core. He then relaminated again using balsa as a core material. In time this also delaminated. At this point the deck has been once more stripped with only the inner skin remaining. I have decided to do a plywood core and carry out the new fiberglass further than the last attempt. With this done I plan to install a teak deck. The fiberglass portion of this project will be done first to make the upper decks water tight. The teak part will be one of the last parts of the overall project so that it does not get damaged during the rest of the work. To date I have read four different manuals with four different theories on how the fiberglass work should be done. I have decided on a plan that involves good ideas from each manual and I may write my own when I complete the work.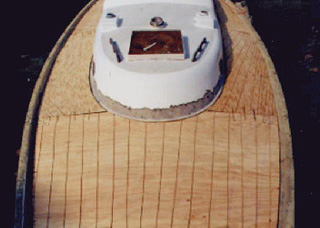 During this phase I also have to think about how the cap and rub rails will be shaped and installed. This area has also been reworked in the past, but the rub area is much too small to prevent normal chafe damage and the cap rail that the rub rail is attached to must be removed to properly complete the deck.
Another consideration is the steering system. The "Molly Brown" still has the original tiller system. The dream calls for a wheel steering system with a below deck autopilot. With this end of the dream also comes rework of the rudder. During the rework of the deck the cockpit will have to be reworked to blank off the tiller post and reinforced it for the wheel steering system. The rudder will have to be removed (by digging a large deep hole in the yard) for modifications to the rudder post. A previous owner had removed the original wood rudder and replaced it with a fiberglass model, but the glass work had never been finished. At extreme throws the rudder contacts the hull and has been damaged. While taking care of the redesign for hull interference a final decision will have to be made on the propeller and powerplant so the prop cut out can be reworked.
As you can see everything snowballs. I have learned in the past that the key is to keep your eye on the finished dream and have patience. Fortunately I have the "Whispern" (for the time being) to keep me on the water while the dream is under construction. At some time this former dream will have to be sold to finance the new dream, but that is what it is all about. If I am land locked for a period of time it will only make my return to the water that much sweeter.
[Below are some more photos recently sent to me by Norm and Donna. Stay tuned for further adventures of the Molly Brown!] - T. Alley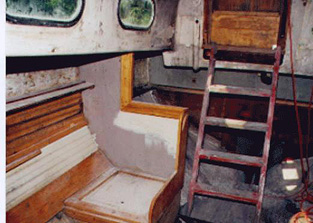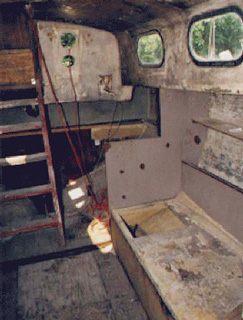 Above and Right: Aft-facing views of the main saloon.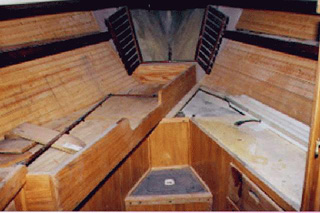 Right: The V-berth and forward cabin.