Story by

This email address is being protected from spambots. You need JavaScript enabled to view it.


Photos by Nancy Birnbaum, ©2002
Posted 17 August 2002
---
In order to transform SAGA into a cruising boat, we had to make some major alterations. Since she was originally designed to be a day sailor up on the north Pacific coast, our challenge was to find more storage, more sleeping room and more ways to fit more gear on board.
Jann had purchased SAGA in Vashon Island, WA some 9 years ago from her original owner. He had traveled to Bristol, RI to oversee her construction and had a custom interior installed while he was at it. SAGA is a Pearson, Alberg 35, Hull # 114, built in 1964. Jann sailed her down from Washington State and enjoyed sailing on the SF Bay for many years. Then, in 1998 he decided to take her down to Mexico with the 'Baja Ha Ha' Rally sponsored by Latitude 38 magazine. Engine problems took SAGA out of the race, but instead Jann got a first mate position on board a CT 49, Orion, with owner Mike Hibbets. It was on the boat that, as crew, I met Jann and we discovered that we both wanted to live the same dream: to cruise the world. Upon returning from the "Ha Ha" we got to work readying SAGA for her first offshore cruising experience and 10 months later, we set sail.
My first suggestion was to fill in the area between the two forward sleeping berths to create one large V-berth with plenty of storage below. Jann is both very intelligent and not afraid to try something new. (Boy, did I pick a winner!) He was quick to discover a way to build a hinged, folding support piece that fit tightly in the "V" space over the small seat in the V-berth thus connecting the two very separate berths. At last, we had a comfortable V-berth which measures seven foot across the head with lots of storage underneath. (Later, we purchased new foam and made a custom mattress that is split in half about mid-thigh to enable extraction. I constructed and sewed Sunbrella covers for them. My first custom upholstery job!)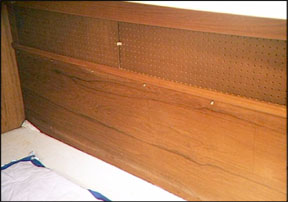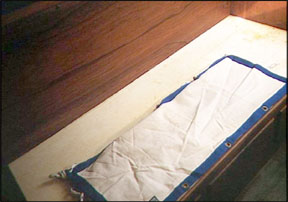 Photos 1 & 2 - Settee back, "Before"
The second challenge was to create more storage and modify the existing storage so that it was more accessible. Photos 3 and 4 show how we modified the areas behind the starboard settee, cutting out large rectangles and re-attaching them with hinges so that we could have access to the deep storage behind or below them.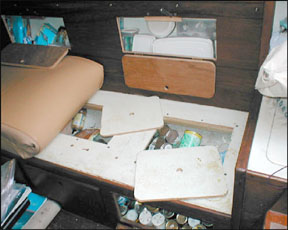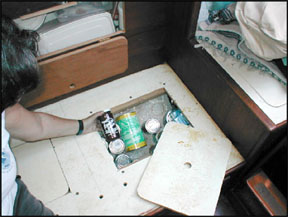 Photo 3 & 4 - Settees, "After"
We used a stainless tang to slide over the cutout to keep it closed. Jann also built a thin shelf just under the edge of the sliding doors so that items placed into that area would no longer fall down behind the settees, never to be seen again! It's amazing how much you can fit into those small areas.
Exercising my new sewing skills, I created some handy canvas pockets for the galley, salon and head to hold all sorts of items that we tend to need all the time. It's great having them out but stored, rather than having to unload an entire storage space to locate them every time. (see Photos 5 & 6)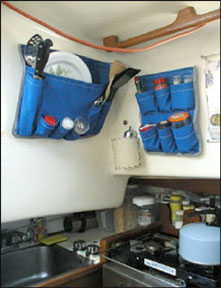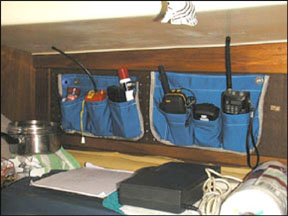 Photos 5 & 6 - Galley pockets (left) and handy storage pockets (right).
Because SAGA has a custom interior, our galley is very small and tucked into the port side opposite the starboard quarter berth and next to the salon table with L-shaped seating around it. The canvas pockets really add storage space (Photo 6). Having enlarged the V-berth, we found that we now had no use for the forward door and removed it. It didnÕt go to waste though. Since it matches the faux wood grain Formica used throughout down below, Jann cut it up to create a small folding table that is hinged to the salon table and allows someone sitting on the starboard settee to eat comfortably. He also used it to create an enclosure for the new stereo system installed over the existing shelf on the port bulkhead. He still had enough left over to make shelves for the HAM radio and bookshelves located against the bulkhead at the foot of the starboard settee.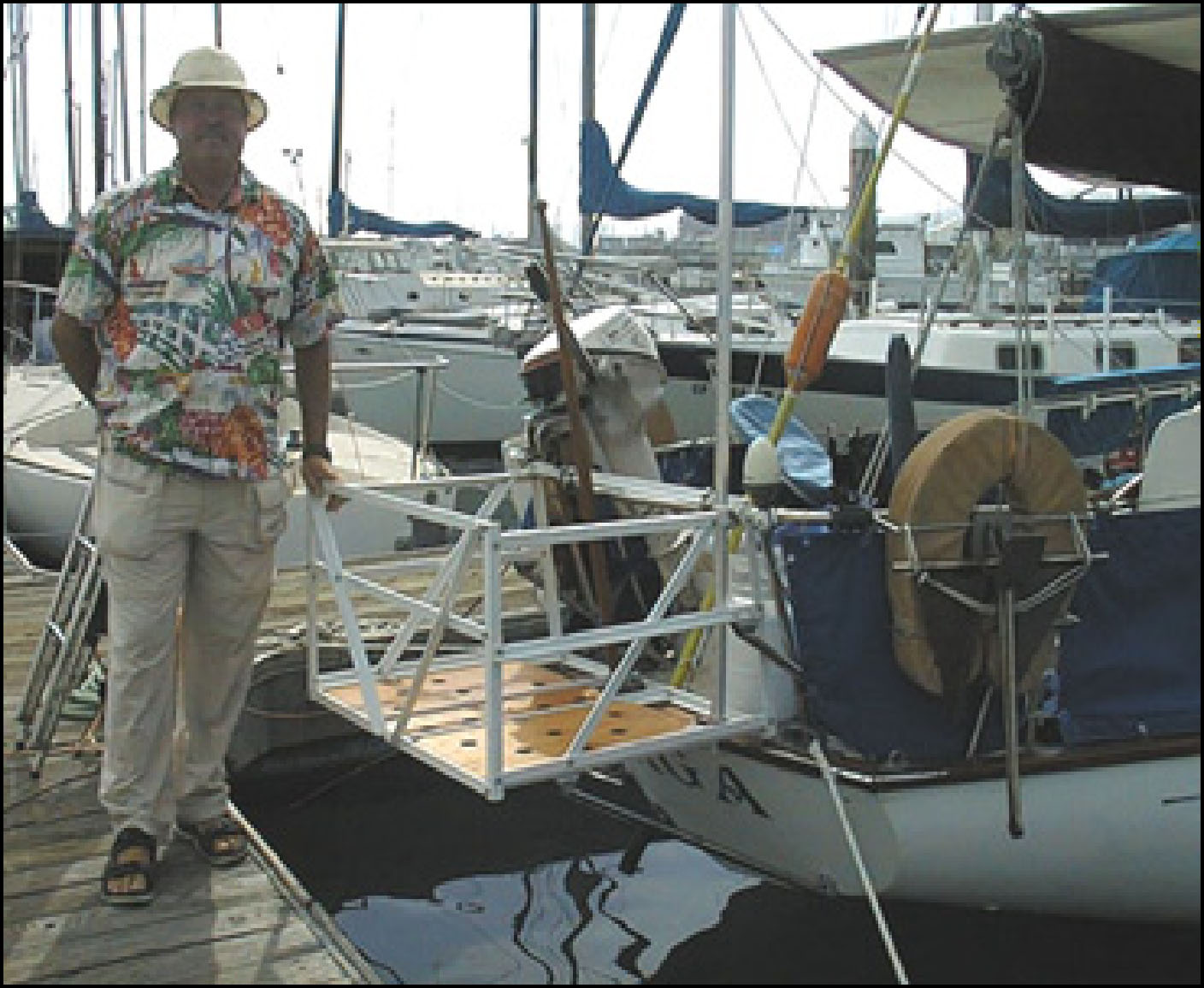 Jann made another serious "enhancement" to SAGA which we lovingly refer to as "The Addition" (Photo 7, right). I know it looks funny, but it cost less then buying a longer boat! In our next article, Jann will discuss how he designed and built this very useful extension. It really helped us clean up our act! It holds our spare jerricans, propane tanks, flopper-stopper, dock lines and other assorted stuff. Plus, it didn't slow us down any more than before we added it.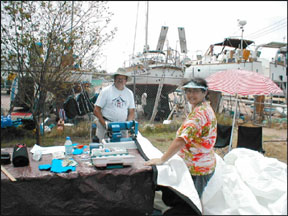 Photo 8 - SagaCanvasWork© set up in a cow pasture behind Marina Seca in San Carlos, Sonora, Mexico
SAGA is currently being stored on the hard in San Carlos, Mexico while we work to replenish the cruising kitty and take care of an ill parent. We'll have more photos after we return to her early next year.
Please visit our cruising website to see stories and photos of our entire trip thus far. The address is: http://1tribe.org/sagasail/
Story by This email address is being protected from spambots. You need JavaScript enabled to view it. /Photos by Nancy Birnbaum, ©2002